Liver Detoxification for Dummies
February 9, 2020
Liver Detoxification for Dummies- Why and How to Detox Naturally
There is a lot of fearmongering, lies, & misleading marketing surrounding the world of "detoxing". From companies using misinformation to sell "liver cleanses" and "detoxes", to skinny teas &  supplement sales, the world seems to think that detoxing is something you need to buy something to do! Newsflash- your body can and does it for you! Detoxing of drugs, environmental toxins, hormones, chemicals, water, air, and even the food you eat is performed in your liver, but detoxing also occurs through your digestive tract, kidneys, skin, and lungs! This blog post will dive into what toxification is, how it works, and will hopefully give you clarity on what will and can actually "naturally detox" your system, and save you money!
Let's start with the liver. The liver is critical to maintaining a healthy immune system, metabolism, digestion, and plays the superhero role of detoxification. Without your liver, you can not convert food into energy, make immune system molecules, and process or eliminate medications or environmental toxins. Liver detoxification (or "detoxing" as you hear it) is divided up into two phases, resulting in end products that are sent to other organs for excretion.
Where is my liver anyway?
The liver is in the upper right-hand side of the abdomen. It's snuggled up underneath the ribs (or snuggles!). It's actually quite large, around 3 pounds. In some cases, it can actually be the size of a large football.
Doctors will typically physically examination your abdomen in the area of your liver to see if it's enlarged. This may be a first clue if there's any true issues going on!
How exactly does it work?  
The liver has many different functions. It produces the storage form of carbohydrates, makes specific amino acids needed, it detoxifies products, it produces bile and cholesterol, it manages intermediate metabolites that need to be sent to other cells via the blood. The list goes on. For the purposes of this blog we will be discussing the detoxification system and leave your body's superhero other work for later.
It's important to know that the liver is extremely vascular and receives 25% of the heart's output each time it beats. This allows the liver to gather particles from the blood. The liver is a jealous organ. It receives all blood and nutrients from the GI tract before they ever make it to the brain.
When the liver receives blood, it filters and attracts the particles (aka "toxins") that need to be processed. These can be by-products of other cell processes, foreign chemicals, heavy metals, medicines, hormones, pesticides, or drugs, to name a few. These products enter our body as fat soluble particles, meaning they are dissolved only in fatty or oily substances. This makes it hard for the body to excrete alone, and these particles and "toxins" must be put through phases of detoxification that make them water soluble, so that they can then be easily excreted by the body through water type substances like urine, bile, sweat, and CO2!
Phase 1 Detoxification
First, particles must enter phase I detoxification, which consists of a series of oxidation and reduction reactions (cue throwback to chemistry courses). This is a series of extremely complex reactions done by many enzymes that are waiting on the wall of liver cells, called hepatocytes.
The cool thing about these enzymes is not only their name, but their function. They are called the cytochrome P450 enzyme family. You won't find these enzymes anywhere else in the body. That's why they are so important! There are many compounds and drugs that can increase or decrease these P450 enzymes. Below is a table from: https://www.d.umn.edu/~jfitzake/Lectures/DMED/TAA/Q_A/CYP450InteractionTable.htm – that gives a quick overview of a few.
INHIBITORS, INDUCERS AND SUBSTRATES OF CYTOCHROME P450 ISOZYMES
remember
inhibitors and substrates INCREASE the effectiveness of another drug metabolized by that isozyme
inducers DECREASE effectiveness
INHIBITORS
INDUCERS
SUBSTRATES
INHIBITORS
INDUCERS
SUBSTRATES
CYP1A2
CYP3A4
cimetidine
ciproflxacin
enoxacin
erythromycin
***fluvoxamine
grepafloxacin
isoniazid
mexiletine
norfloxacin
tacrine
zileuton
barbiturates
carbamazepine
charcoal-broiled foods
lansoprazole
omeprazole
phenytoin
rifampin
smoking
amitriptyline
caffeine
clomipramine
clozapine
cyclobenzaprine
grepafloxacin
imipramine
mirtazapine
olanzapine
propranolol
riluzole
ropinirole
R-warfarin
tacrine
theophylline
zileuton
amiodarone
amprenavir
clarithromycin
cyclosporine
danazol
delavirdine
diltazem
efavirenz
erythromycin
ethinylestradiol
fluconazole
fluvoxamine
grapefruit juice
indinavir
itraconazole
ketoconazole
nefazodone
nelfinavir
quinine
***ritonavir
saquinavir
Synercid
troleandomycin
verapamil
zafirlukast
barbiturates
carbamazepine
dexamethasone
efavirenz
ethosuximide
griseofulvin
modafinil
nafcillin
nevirapine
oxcarbazepine
phenytoin
primidone
rifabutin
***rifampin
rifapentine
St. John's wort
alfentanil
alprazolam
amiodipine
amprenavir
atorvastatin
bepridil
buspirone
carbamazepine
cerivastatin
cisapride
citalopram
clarithromycin
clomipramine
corticosteroids
cyclophosphamide
cyclosporine
dapsone
delavirdine
diazepam
diltiazem
disopyramide
dofetilide
donepezil
doxorubicin
efavirenz
erythromycin
ethinylestradiol
etoposide
felodipine
fentanyl
finasteride
ifosfamide
imipramine
indinavir
isradipine
itraconazole
ketoconazole
lansoprazole
loratadine
losartan
lovastatin
methadone
midazolam
mirtazapine
montelukast
nefazodone
nelfinavir
nicardipine
nifedipine
nimodipine
nisoldipine
paclitaxel
pimozide
quetiapine
quinidine
quinine
repaglinide
refabutin
ritonavir
saquinavir
sertraline
sibutamine
sildenafil
simvastatin
sirolimus
sufentanil
tacrolimus
tamoxifen
testosterone
tolterodine
toremifene
triazolam
troleandomycin
verapamil
vinblastine
vincristine
R-warfarin
zaleplon
zileuton
zolpidem
zonisamide
CYP2C9
amiodarone
cimetidine
cortrimoxazole
fluconazole
***fluvoxamine
isoniazid
ketoconazole
metronidazole
zafirlukast
barbiturates
carbamazepine
rifampin
rifapentine
St. John's wort
carvedilol
celecoxib
diclofenac
flurbiprofen
fluvastatin
glimepiride
ibuprofen
irbesartan
losartan
montelukast
naproxen
phenytoin
piroxicam
tolbutamide
torsemide
S-warfarin
zafirlukast
CYP2C19
felbamate
fluoxetine
fluvoxamine
modafinil
omeprazole
oxcarbazepine
None
amitriptyline
citalopram
clomipramine
diazepam
imipramine
lansoprazole
phenytoin
omeprazole
R-warfarin
CYP2D6
amiodarone
chloroquine
cimetidine
clomipramine
diphenhydramine
fluoxetine
fluphenazine
haloperidol
paroxetine
perphenazine
propafenone
propoxyphene
quinacrine
quinidine
ritonavir
sertaline
terbinafine
thioridazine
None
amitriptyline
carvedilol
chlorpromazine
clomipramine
clozapine
codeine
desipramine
dextromethorphan
dihydrocodeine
donepezil
flecainide
fluoxetine
haloperidol
hydrocodone
imipramine
loratadine
maprotiline
methamphetamine
metoprolol
mexiletine
mirtazpine
nortriptyline
oxycodone
paroxetine
perphenazine
propafenone
propanolol
risperidone
ritonavir
thoridazine
timolo
tolterodine
tramadol
trazodone
venlafaxine
Foods and dietary components, including teas and supplements, can also influence this enzyme.
After a good fight between the particles and the enzymes, particles (our "toxins") come out modified and partially water soluble. The new products are called toxic intermediates and sometimes can do more damage to the cells than they can do in their original state. They can create free radicals that cause oxidative damage if not excreted & put through phase 2, which can cause oxidative stress, inflammation, premature again, and increase risk for chronic disease. This is where antioxidants are VERY important! They help combat the intermediates.
Speaking of antioxidants, there are a variety of nutrients that are extremely important for the enzyme processes to continue. If you are lacking in these nutrients, phase I liver detoxification cannot run at full speed. This means any toxic products will continue disturbing, can build up, and cause damage to the body. If one was to try and "detox" without these nutrients, they may do more harm than good.
The nutrients that are of importance for phase I detoxification processes are:
B2, B3, B6, B12
Folate
Glutathione
Flavonoids
Phase II Detoxification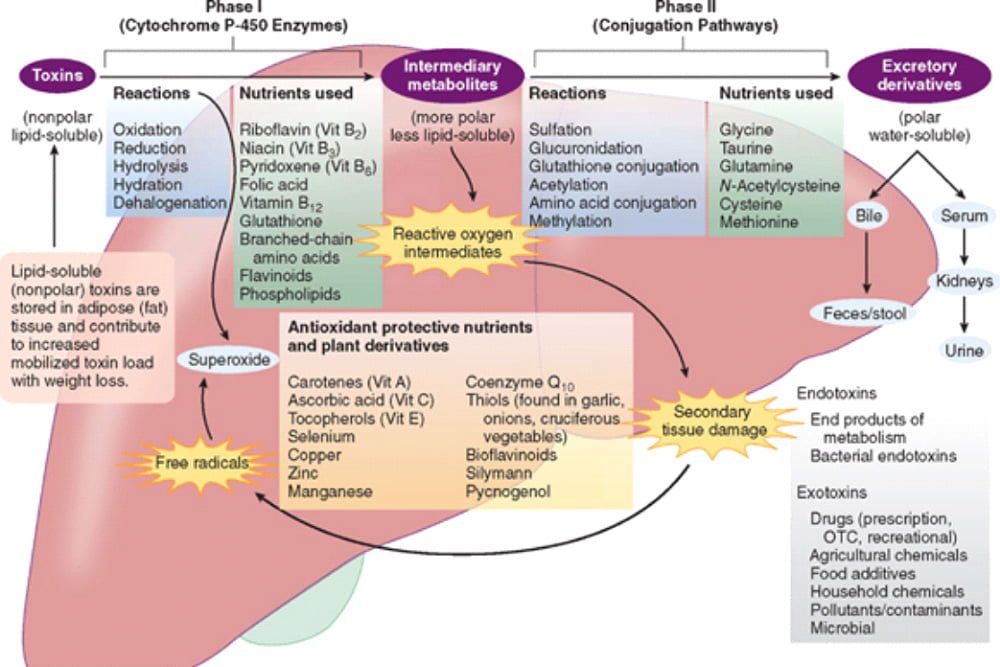 (photo sourced from https://wildcraftmedicine.com/21-day-detox-program/)
After phase I comes phase II. This is the final step in transformation of the toxins, where they go from being less lipid soluble, to becoming more water soluble through what is known as conjugation -which includes sulfation, glucuronidation, and more (see above image!). Depending on the molecules, they undergo these 1-or more- of 6 reactions that conjugate (aka ADD another substance such as sulfur, cysteine, or glycine) to the particle or "toxin" to make it less harmful and be able to be excreted.
It's important to note that phase II pathways require different nutrients than phase I. This is why variety in the diet is important! If the body lacks of any of these nutrients,  the process will slow down immensely, just like in phase I. This can mean reductions in your body's detoxification (and a HUGE reason why those on poor diets with micronutrient deficiencies see benefits from "detoxes"- they finally get their needed nutrients & feel better with reductions in inflammation and free radical damage! (Plus they may get a large bowel movement… "detox" teas tend to stimulate the GI tract and are really just a laxative- yes I said it).
Nutrients that are importance for phase II detoxification include:
Glutathione
B5, B12
Multiple Amino Acids- including taurine, glutamine, cysteine, methionine, glycine
Sulfur Containing Compounds like MSM & Sam- E
Magnesium
Vitamin C
Choline
Carnitine
Final Excretion
After phase 2, finally, these the transformed particles & "toxins" are excreted. Some are returned to the blood to go to the kidneys and eventually out of the body through urine. Other products are attached to bile, which then go into the intestines and are passed through the stool. Others leave your body via sweat or breathing out of CO2. Along with getting in all the required nutrients to go through each phase, it's important to stay hydrated and to have regular bowel movements to rid your body of the final form of toxins- FOR GOOD! A happy poop life can mean a happy detoxification life!
Critical factors for final excretion include:
Adequate fiber intake
Adequate water intake
Lack of excretion or alterations in phase 1 & 2 detoxification can lead to a build up in the body of some particles- which is commonly seen when drugs are not metabolized correctly can be seen in estrogen dominance or high sex hormone binding globulin levels.
Okay we discussed detoxification- What does and can my liver store?
Your liver is a crafty organ. As mentioned before, the liver receives most of the blood and nutrients first. This allows for swift processing and storage. It stores many of the fat-soluble vitamins and minerals. Specifically, it stores Vitamin A, D, E, K. Vitamin B12 is also stored in the liver. Last, two minerals, iron and copper have their stores in the liver. Many animal liver's store the same vitamins and minerals. This makes animal liver is a nutrient dense food. It's important not to eat too much though, because the fat-soluble vitamins can become toxic at high doses.
Even though the liver stores all of these vitamins and minerals. It does not store many of the critical nutrients mentioned above for the detoxification pathways. Many of these are protein (stored in muscle) or water-soluble vitamins, (directly excreted if not utilized). Therefore, having a wide variety of foods in the diet should be first priority.
 What foods should I eat to help my liver and detox naturally?
A healthy liver needs a well-rounded diet with a variety of fruits, vegetables and proteins. In this case, remembering to eat the rainbow will help you get all the nutrients you need for a healthy liver!
| | |
| --- | --- |
| Red | beets, tomatoes, cherries, cranberries, raspberries, strawberries, red bell peppers, red apples |
| Blue/Purple | eggplant, grapes, blueberries, plums, pomegranates, purple potatoes |
| Orange/Yellow: | oranges, bananas, guavas, peaches, yellow squash, carrots, sweet potatoes |
| Green | kiwi, collard greens, swiss chard, celery, green beans |
| White | cauliflower, garlic, turnips, potatoes, onions, mushrooms |
| Don't forget your protein!* | legumes (beans), poultry, beef, eggs, soy products, pork |
*Protein provides essential amino acids for liver detoxification.
Why do I not need a liver cleanse?
There are many companies out there trying to sell liver cleanses, detox teas, or "liver supplements". They are sold under a false pretense that your liver stores toxins. As we learned earlier, the liver will store these toxins in excess fat outside the liver, because many of these toxins are fat loving molecules. That is only if the phases are not running at optimum capacity.  If, through diet and lifestyle, the toxic load is more than the liver can handle even at optimum capacity- toxins will get stored in fat until the liver can process them. So, contrary to popular thought, your liver does not directly store toxins. Therefore, you do not need a liver cleanse! What you do need to handle toxins is to be physically active, poop daily, ensure optimal nutrients required for each pathway, and to sweat!
The body never stops working and neither does the liver. Through all these miraculous enzymes and nutrients, the body can keep running at optimum level, without a need to buy a "detox". It's important to keep a consistent dietary intake of all the required nutrients to support the liver. Unless you have specific medical conditions inhibiting absorption or digestion of nutrients the best way to make your liver happy and processing is to eat the rainbow! Taking supplements that help provide the body with required phase nutrients MAY help if someone is deficient, has a compromised liver, or genetic mutation affected detox pathways, but unless you work with a health care provider, avoid any supplements to "help detox" reagrdless, and some may do more harm than good.
Authors: Lacey Dunn, MS, RD, LD & Chelsea Macias, Dietetic Intern
Ballantyne S. What Does Our Liver Do Anyway? Detoxification Explained. The Paleo Mom. https://www.thepaleomom.com/what-the-heck-does-our-liver-do-anyway-detoxification-explained/. Published July 8, 2019. Accessed January 31, 2020.
Cline JC. Nutritional Aspects of Detoxification in Clinical Practice. Alternative Therapies. 2015;21(3).
Lautt WW. Overview Hepatic Circulation. Hepatic Circulation: Physiology and Pathophysiology. https://www.ncbi.nlm.nih.gov/books/NBK53069/. Published January 1, 1970. Accessed January 31, 2020.
Percival M. Phytonutrients and Detoxification PDF. 1997.
Speller J. Storage Functions of The Liver – Carbohydrates – Vitamins. TeachMePhysiology. https://teachmephysiology.com/gastrointestinal-system/liver/storage-functions-liver/. Published June 3, 2018. Accessed January 31, 2020.
Tucker I. Your Body's Detoxification Pathways. The Great Plains Laboratory, Inc. https://www.greatplainslaboratory.com/gpl-blog-source/2016/6/6/your-bodys-detoxification-pathways. Published June 6, 2016. Accessed January 31, 2020.
Additional resources:
www.ncbi.nlm.nih.gov › pmc › articles › PMC4488002Modulation of Metabolic Detoxification Pathways Using Foods …
www.ncbi.nlm.nih.gov › pubmedNutritional aspects of detoxification in clinical practice. – NCBI
www.ncbi.nlm.nih.gov › pmc › articles › PMC4014033Pharmacological strategies for detoxification – NCBI
www.ncbi.nlm.nih.gov › pubmedAntioxidant and detoxifying enzymes in the liver and … – NCBI
Follow me on social media!
Love- Lacey: Team "Let Your Liver Detox -Not Your Wallet"